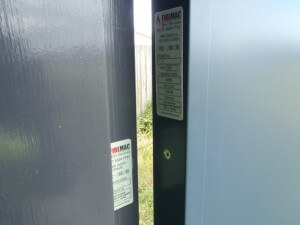 Fire doors are an integral component of fire protection in buildings and must be repaired and replaced appropriately in order to maintain their efficiency.
We specialise in fire door replacement on the Gold Coast.
Our fire door services include:
Fire door maintenance and replacement
Supply & install all fire doors and solid core doors
Supply & install associated door hardware
Repair & replace locksets/door closers
Supply & install fire rated acoustic / smoke seals
Replacement of asbestos fire doors
Asbestos door removal by licensed professional contractor
Non-compliant deadlock removal and door upgrade (non asbestos fire doors)
Remedial work itemized in fire door reports
Fire door certification
Fire door inspection reports
Firemac Door Services are the replacement of fire doors on the Gold Coast and Tweed Heads. Our qualified technicians are also able to maintain and inspect your fire doors to meet the Fire and Rescue Service Act 1990 and the Building Fire Safety Regulation 2008.
Call NOW on 5524 7731 or use the form below